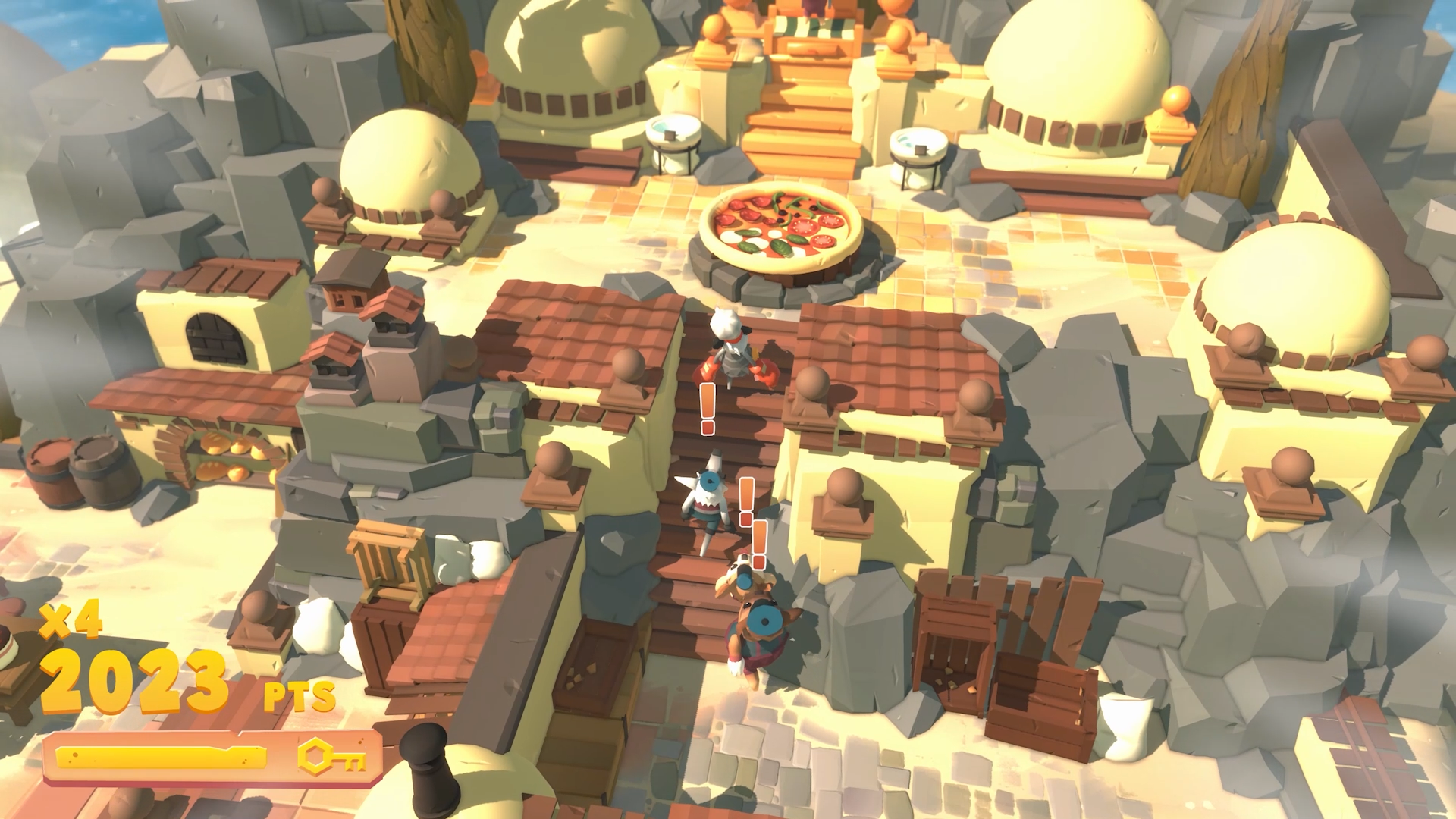 via Raw Fury
A PS5 code was provided to GamingPizza for this review. Pizza Possum is now available for PS5, Xbox Series X|S, Nintendo Switch, and PC.
In an age of sprawling open-world games and grand storylines, sometimes it's the simple joys that truly captivate us. Enter Pizza Possum, a casual arcade game that encapsulates the magic of quick, heart-racing gameplay, tinged with a good dose of silly fun.
At its core, Pizza Possum is about a hungry possum's journey through a village brimming with scrumptious food. But as with any journey, challenges abound. The game introduces us to a bustling village guarded by patrolling dogs. The primary objective is deceptively simple: gather food to unlock new districts and ascend the island as you try to steal the biggest pizza of all from the leader at the top of the island. Of course, those patrolling dogs are there for a reason, ready to put your pizza dreams to rest if they catch you. Yet, with each capture by a guard dog, I found myself whispering, "Ah, just one more try" – a testament to the game's addictiveness.
A legitimate arcade experience
via Raw Fury
What makes Pizza Possum so compelling, especially for busy gamers, is its suitability for brief gaming sessions. Whether you have five minutes or 50, there's a certain sense of accomplishment in navigating the streets, dodging those pesky guard dogs, and perhaps unlocking another district. It's an on-the-go style game that beckons you for one more playthrough whenever you have a spare moment.
Graphically, Pizza Possum is a treat. Its cartoon aesthetics resonate with the game's overall arcade vibe. The visuals, vibrant and playful, perfectly complement the humorous undertones of a possum trying to dethrone a pizza-wielding Corgi leader named Bella Chonki. It's a game that doesn't take itself too seriously and that is its charm.
Strategy and chaos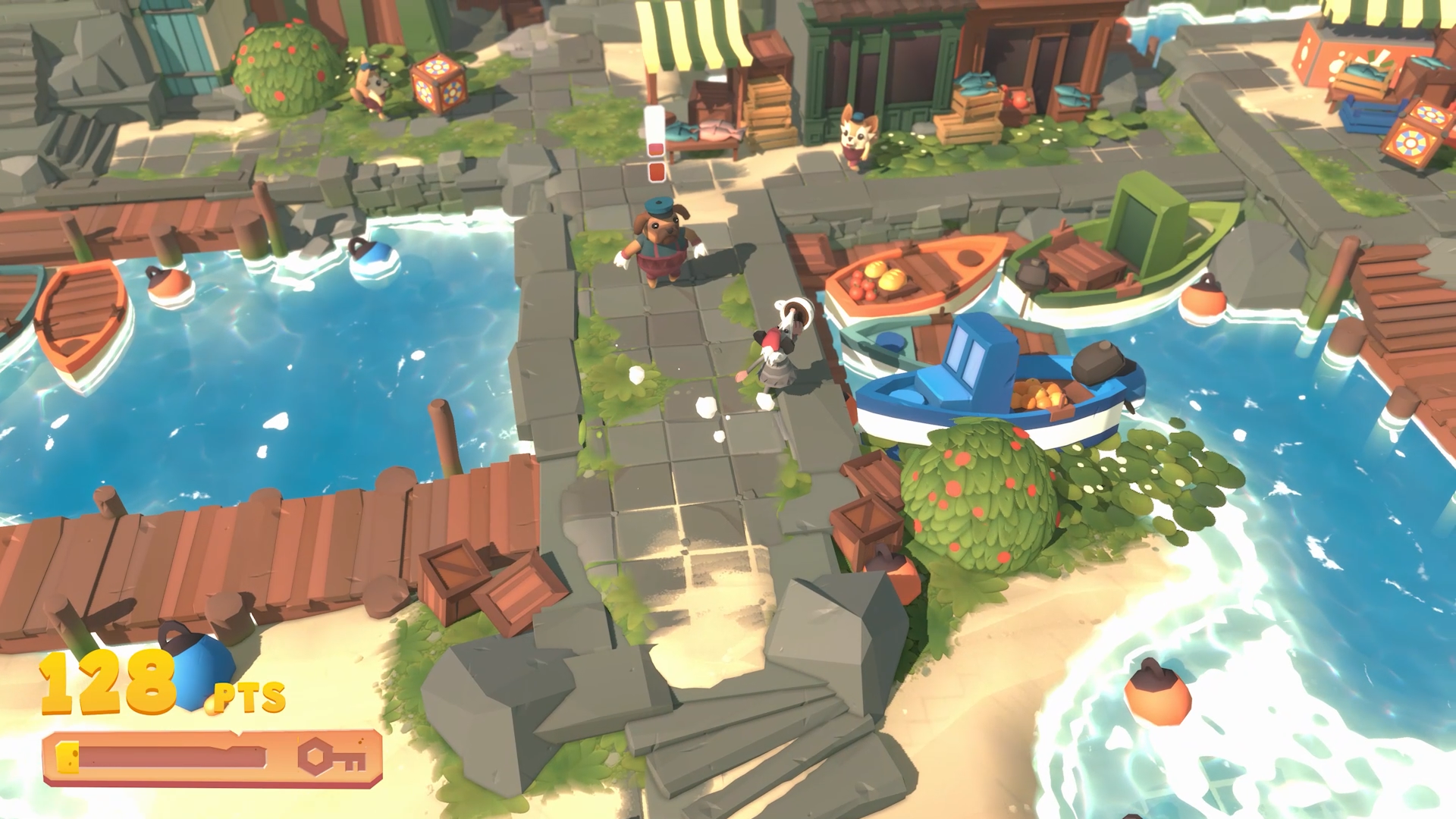 via Raw Fury
As you navigate the streets, alleys, stairways, and vineyards, the sight of a checkpoint is always a relief. Strategically placed, especially as the challenges ramp up while ascending the mountainous island, these checkpoints offer a momentary respite. The higher you go, the more thrilling (and challenging) the game becomes. Reaching the summit and coming face-to-face with Bella Chonki, the dog leader, brings a sense of urgency, as you must eat the pizza before you can snatch away her crown. It's both hilarious and exhilarating!
PREVIOUSLY: Fate/Samurai Remnant Review: 'It's Called Fate (and It's Great)'
The game mechanics, although straightforward, are not without their depth. Using bushes as hiding spots is essential to survival, requiring careful planning to ensure the guards don't see you sneak in. However, the power-ups are where the game really shines. They're generally effective in giving the player a leg up against the relentless guards. A minor gripe here is with the roadblocks. Though designed to halt guards in their tracks, there were plenty of instances when they would unceremoniously jump over them. It was unexpected and sometimes thwarted my carefully laid pizza plans. But in the grand scheme of things, these moments added to the unpredictability and fun of the game.
Like any game, Pizza Possum does have its quirks. In co-op mode, the split screen occasionally faced some issues like shaking or a sudden shift in camera focus. More amusingly, some guards appeared to be taking a break from their duties, finding themselves stuck within objects or buildings and allowing me to help myself to all of the surrounding goodies. None of these issues broke the game; they were more like minor distractions than glaring problems, and the game's developers have acknowledged and are actively working on these concerns.
A delicious slice of arcade action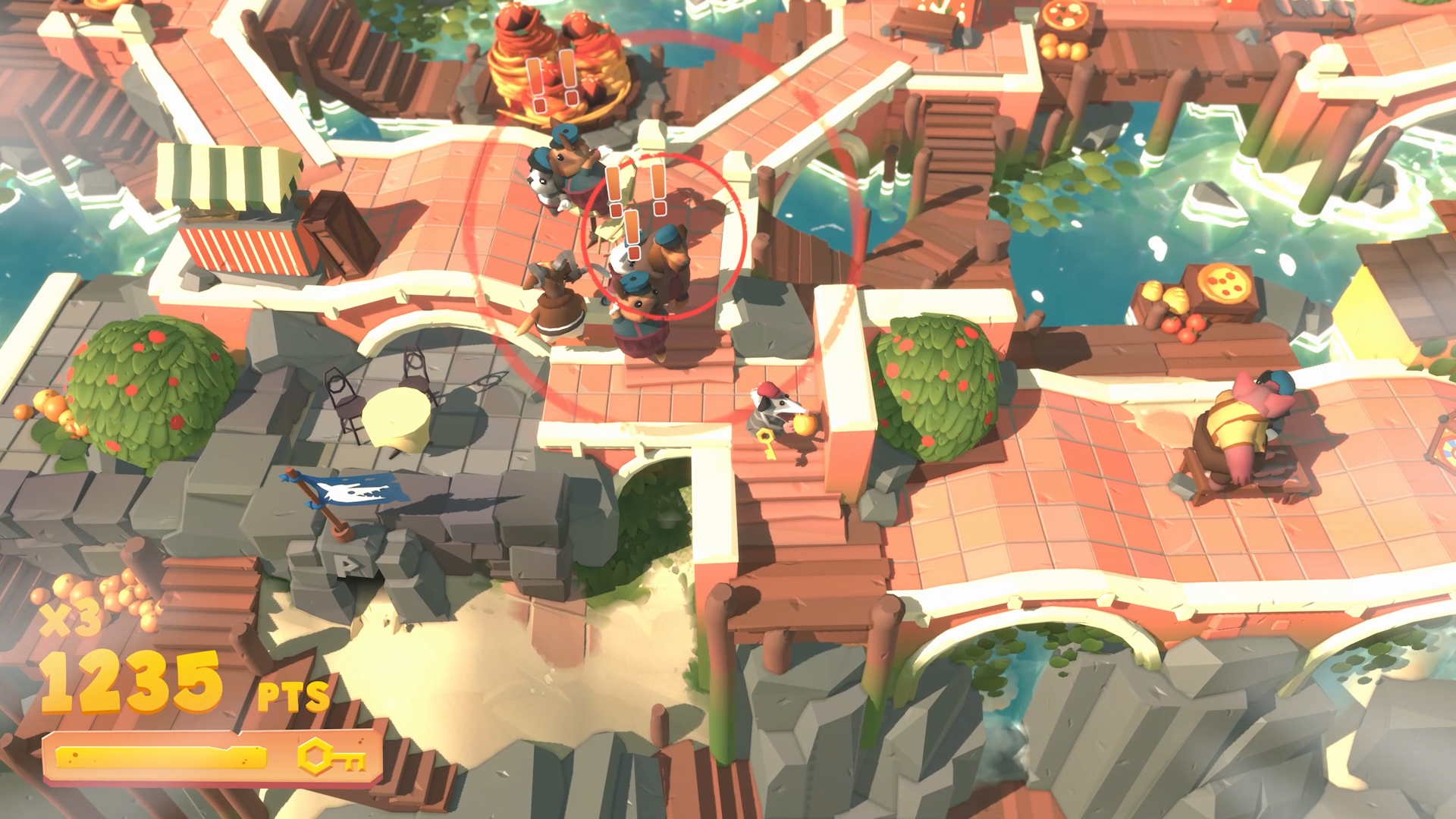 via Raw Fury
Pizza Possum is a delightful arcade romp that thrives in its simplicity and charm. Its quirky narrative combined with a mechanics-driven gameplay ensures that every playthrough feels fresh and exciting, not to mention providing plenty of incentive to play through back-to-back-to-back successes. Yes, it might have a few rough edges, but it's hard to stay mad at a game that serves up such unabashed fun. Pizza Possum knows what it is, and it wears its identity with pride.
It's a game that's easy to pick up, hard to put down, and always leaves you smiling. For its joyous, albeit slightly flawed experience, Pizza Possum earns a well-deserved 8 out of 10. Grab a slice of pizza, don a crown, and dive into this delightful world.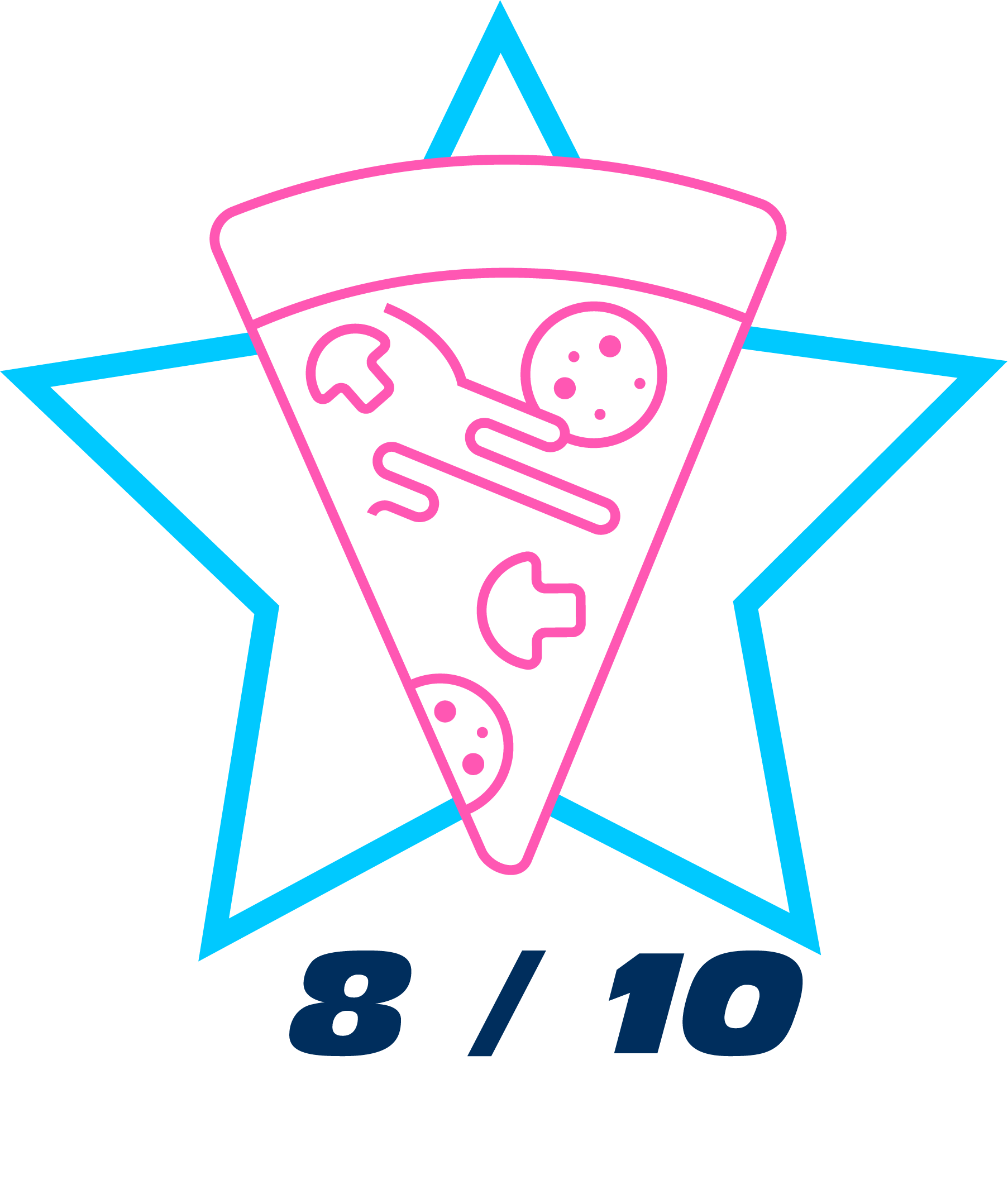 GamingPizza's Rating: 8 out of 10