GamingPizza is supported by our readers. When you buy products through links on our site, we may earn an affiliate commission.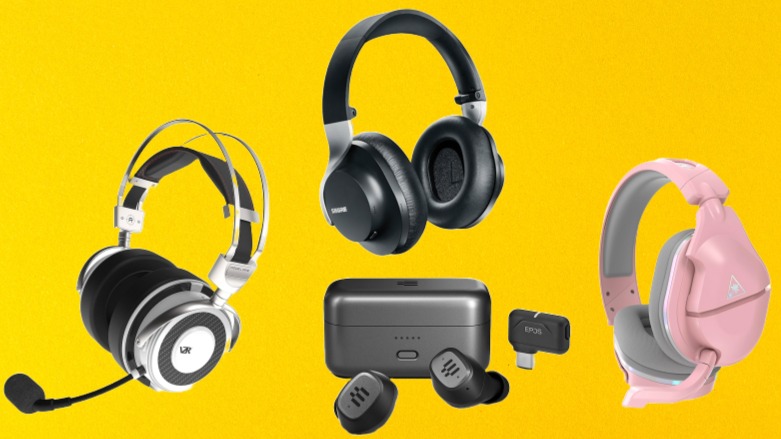 Gaming headsets are a vital part of any gamer's arsenal, providing immersive audio and clear communication with teammates. In this comprehensive review, we dive into the top 10 gaming headsets available on Amazon in 2023.
1. Astro A10 Gaming Headset Gen 2
The Astro A10 Gen 2 stands as a testament to Astro's dedication to quality and user experience. Offering premium audio with its flip-to-mute microphone, it seamlessly integrates with a gamer's needs. This wired over-ear headset is not only comfortable but also impressively durable, having been designed to resist the wear and tear of regular use.
Its lightweight build ensures that even during intense, prolonged gaming sessions, user comfort remains uncompromised. The ear cups are designed to offer immersive audio, isolating ambient noise, and focusing on in-game sounds. Moreover, with its versatile in-line controls, gamers can adjust volume on-the-fly, ensuring they remain in the zone without distractions.
Features: Flip-to-mute microphone, over-ear design, in-line volume control.
Usability: Plush ear cushions for extended comfort, combined with ambient noise isolation.
Durability: Robust build meant for regular use, designed to withstand daily gaming rigors.
Our Verdict: A dependable choice for gamers who prioritize both comfort and clear audio.
2. Razer BlackShark V2 Gaming Headset
The Razer BlackShark V2 is more than just a headset; it's an experience tailored for dedicated gamers. Engineered with the groundbreaking THX 7.1 Spatial Surround Sound, players are transported right into the heart of their games, hearing every footstep, gunshot, and ambient noise with unparalleled clarity. Its 50mm drivers are precision-tuned, delivering rich soundscapes that redefine game audio. The detachable mic not only ensures clear communication with teammates but is also versatile enough to be removed for a more casual listening experience.
Compatibility across multiple platforms like PC, PS4, PS5, and Switch ensures that no matter your gaming device, the BlackShark V2 is ready to elevate your gameplay. With its sleek design, accented by Razer's signature green, it's also a visual statement of a gamer's commitment to quality.
Features: THX 7.1 Spatial Surround Sound, 50mm drivers, detachable mic.
Usability: Memory foam ear cushions for extended play.
Durability: Sturdy construction with reinforced cables.
Our Verdict: Ideal for gamers seeking an immersive auditory experience.
3. IOGEAR Kaliber Gaming UNIKOMM Headset
The IOGEAR Kaliber Gaming UNIKOMM headset isn't just another gaming peripheral; it's an embodiment of avant-garde design coupled with top-tier performance at a fraction of the price of most headsets. This headset effortlessly marries aesthetics with functionality, making it a notable contender in the gaming audio market. The 3D audio experience it offers is nothing short of cinematic, enveloping gamers in rich, layered soundscapes that enhance in-game immersion.
The detachable noise-canceling microphone ensures that in the heat of in-game battles, communication remains crystal clear. But the UNIKOMM isn't just about performance; its customizable RGB lighting lets users add a personal touch, showcasing their style and personality. The extended padding ensures that even during the most intense gaming marathons, comfort remains uncompromised. Its design is as robust as it is stylish, built to handle the rigors of everyday gaming, not to mention being easy on the wallet.
Features: 3D audio experience, detachable noise-canceling mic, customizable RGB lighting.
Usability: Extended padding for marathon gaming.
Durability: Solid build meant to withstand regular use.
Our Verdict: A stylish and functional addition to any gamer's setup.
4. Turtle Beach Stealth 600 Gen 2 MAX Wireless Multiplatform Amplified Gaming Headset
Turtle Beach continues its legacy of excellence with the Stealth 600 Gen 2 MAX. Designed for gamers who crave the freedom of wireless connectivity, this headset eliminates the fuss of tangled cords, allowing for more fluid movement and immersive gameplay. Its multiplatform capabilities mean you're not confined to one system; whether you're on Xbox, PlayStation, or even a PC, this headset seamlessly integrates into your gaming setup.
Beyond just connectivity, the amplified audio ensures that every sound, from the faintest whisper to the loudest explosion, is crystal clear. For those who wear glasses, the unique ProSpecs glasses relief system offers comfort by removing pressure on your frames. The onboard controls are intuitively placed, ensuring in-game adjustments are a breeze. When you factor in the iconic Turtle Beach aesthetic, it becomes evident that the Stealth 600 Gen 2 MAX is a fusion of style and substance.
Features: Wireless connectivity, multiplatform design, amplified audio.
Usability: Glasses-friendly design with easy-to-access controls.
Durability: Rugged construction with reinforced joints.
Our Verdict: A top wireless pick that delivers on both sound and comfort.
5. VZR Model One Audiophile Gaming Headset
The VZR Model One, while relatively new to the scene, has quickly risen to prominence in the gaming community. Its pedigree, given its design by Apple's former lead acoustics engineer, shines through in its performance. The headset encapsulates the spirit of innovation with its CrossWave acoustic lens technology, a game-changer in the realm of audio spatiality. This innovative feature dramatically heightens the sense of immersion, allowing gamers to pinpoint sound origins with exceptional accuracy, be it an enemy's footsteps or a distant gunshot.
PREVIOUSLY: REVIEW: IOGEAR Kaliber Gaming UNIKOMM Headset
The open-back design of the headset not only aids in delivering a more natural sound experience but also ensures better heat dissipation, making for cooler, more comfortable gaming sessions. Every detail, from the luxurious over-ear cushions to the meticulously crafted adjustable headband, speaks to VZR's commitment to user comfort. The headset's elegance doesn't stop at its audio capabilities; it carries a sleek aesthetic that matches its premium performance, setting it apart in a crowded market.
Features: CrossWave technology, open-back design, and impeccable audio clarity.
Usability: Over-ear cushions and adjustable headband ensure utmost comfort.
Durability: Robust build with high-quality materials, guaranteeing longevity.
Our Verdict: A high-end choice for gamers and audiophiles alike.
6. LucidSound LS10X Wired Gaming Headset
The LucidSound LS10X is a testament to the enduring prowess of wired headsets. Beyond its aesthetics, it's crafted with gamers at heart. Offering impeccable audio quality, every in-game sound is rendered with crystal clarity, from the faint rustling of leaves to the booming bass of explosions. Precision-tuned drivers ensure that audio remains balanced and immersive, enhancing every gaming session.
PREVIOUSLY: REVIEW: LucidSound LS10X Wired Gaming Headset
The intuitive controls, strategically positioned, allow for on-the-fly adjustments without ever needing to break away from the game. Furthermore, the lightweight design means that even after hours of gameplay, comfort remains uncompromised. The wired construction not only ensures an uninterrupted audio connection but also promises durability, reducing wear and tear associated with battery or wireless components.
Features: Precision-tuned drivers, intuitive controls, lightweight design.
Usability: Designed for long hours of gaming.
Durability: Wired construction ensuring a longer lifespan.
Our Verdict: A reliable choice for those who prioritize uninterrupted audio.
7. Shure AONIC 40 Wireless Noise Cancelling Headphones
When it comes to audio prowess, Shure is a name that has resonated with professionals and enthusiasts for decades. The AONIC 40 Wireless Noise Cancelling Headphones uphold that legacy, providing an unparalleled auditory experience tailored for the modern gamer. In bustling environments where external noises can distract, these headphones create an oasis of calm, courtesy of their advanced noise cancellation technology.
PREVIOUSLY: REVIEW: Shure AONIC 40 Wireless Noise Cancelling Headphones
Beyond gaming, its capabilities shine through during music playback or even during daily commutes, offering crystal clear sound and drowning out the cacophony of the world. Adjustable sound modes mean you can tailor your listening experience based on the scenario, whether it's an intense gaming match or a relaxing playlist. The long battery life ensures you're never caught off guard in the middle of a session. And as with all Shure products, the build quality of the AONIC 40 is exceptional, promising durability and comfort in one sleek package.
Features: Premium noise cancellation, adjustable sound modes, long battery life.
Usability: Multi-purpose use – gaming, music, and daily commutes.
Durability: Shure's renowned build quality.
Our Verdict: An investment in quiet, focused gaming sessions.
8. NACON RIG 500 PRO Headphones
NACON has always been at the forefront of delivering top-tier gaming peripherals, and the RIG 500 PRO headphones are no exception. These headphones are an embodiment of audio precision, offering high-fidelity sound that captures every nuance in the gaming environment, from ambient noises to character dialogues. The isolating ear cups ensure that the world outside remains just that – outside.
By minimizing external distractions, gamers can remain deeply immersed in their virtual worlds. The headphones are surprisingly lightweight, ensuring that even after hours of gameplay, fatigue remains at bay. The design is both stylish and functional, with intuitive controls that allow for on-the-fly adjustments. NACON's dedication to quality shines through in the RIG 500 PRO's rugged construction, ensuring that these headphones will be a mainstay in a gamer's setup for years to come.
Features: High fidelity audio, isolating ear cups, lightweight construction.
Usability: Designed for marathon gaming sessions.
Durability: Rugged construction promising longevity.
Our Verdict: An all-rounder sure to impress any gamer.
9. SteelSeries Arctis Nova 7P Wireless Multi-Platform Gaming & Mobile Headset
SteelSeries has long been a name synonymous with quality, and the Arctis Nova 7P further cements that reputation. This headset isn't just about premium audio, though that is undeniably one of its standout features. It's about crafting an all-rounded gaming experience. With its 2.4 GHz wireless audio, gamers can enjoy a lag-free auditory experience that brings the world of their games to life. The retractable Discord-certified mic ensures that every strategy, every callout, is heard with clarity. Coupled with the DTS Headphone:X v2.0 surround sound, it's easy to understand why many hail the Arctis 7P as the zenith of gaming audio.
Beyond its audio prowess, the headset's design has been meticulously thought out. The ski-goggle headband isn't just a design choice; it ensures that the weight of the headset is evenly distributed, removing typical pressure points and ensuring unparalleled comfort. This is a headset designed for those marathon gaming sessions, where comfort and audio quality are paramount.
Features: 2.4 GHz wireless audio, retractable Discord-certified mic, DTS Headphone:X v2.0 surround sound.
Usability: Ski-goggle headband for a perfect fit.
Durability: Strong construction meant for intense gaming sessions.
Our Verdict: A premier investment promising years of top-tier gaming audio.
10. EPOS Audio GTW 270 Hybrid Gaming Earbuds
Breaking away from traditional over-the-head gaming headsets, the EPOS Audio GTW 270 Hybrid Earbuds redefine what it means to have portable gaming audio. For gamers who are constantly on the move or those who simply prefer the discreet nature of earbuds, this offering from EPOS Audio is a game-changer. Despite their compact size, these earbuds pack a punch, delivering rich and detailed audio, courtesy of the low-latency aptX technology.
PREVIOUSLY: REVIEW: EPOS Audio GTW 270 Hybrid Earbuds
Seamless Bluetooth connectivity ensures you're always connected, whether you're diving into a mobile game during a commute or settling in for a gaming marathon at home. The ergonomic design ensures the earbuds sit comfortably, minimizing ear fatigue during prolonged use. Moreover, the build quality showcases EPOS Audio's commitment to excellence, as these earbuds are crafted to endure daily wear and tear, promising longevity.
Features: Seamless Bluetooth connection, low-latency aptX, ergonomic design.
Usability: Ideal for mobile gamers and on-the-go sessions.
Durability: Robust build with a design meant to last.
Our Verdict: A top pick for gamers who prefer earbuds without sacrificing quality.
Gaming Headset Comparison Table
Use this guide to navigate the vast ocean of gaming headsets and find the one that best aligns with your needs. Elevate your gaming experience with unparalleled audio quality. Happy gaming!