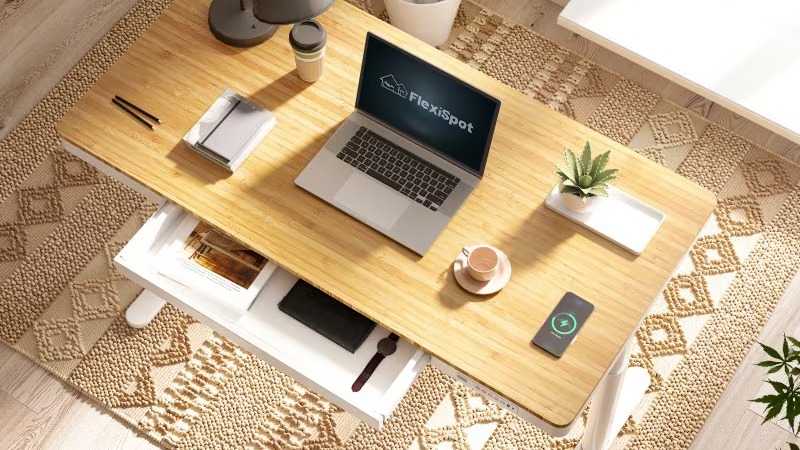 via Flexispot
A product sample was provided to GamingPizza for this review. The Flexispot Comhar Pro Standing Desk Q8 is now available from the Flexispot website.
The world of standing desks is constantly evolving, and in a marketplace saturated with options, the Flexispot Comhar Pro Standing Desk Q8 stands out not just for its simple, sleek design, but also for its outstanding functionality. Here's an in-depth look at what makes this desk a great addition to any workspace.
Right from unboxing, the first thing you'll notice is the environment-friendly bamboo desktop. This isn't just any bamboo — it's sourced from sustainable forests ensuring your purchase isn't contributing to deforestation. Moreover, this desktop is free from harmful chemicals, marrying beauty with peace of mind. The green, durable surface is not just elegant but also robust. Compared to regular wood, it's twice as tough, making it perfect for those who expect to use it on a daily basis, whether you're working or gaming.
Assembly and setup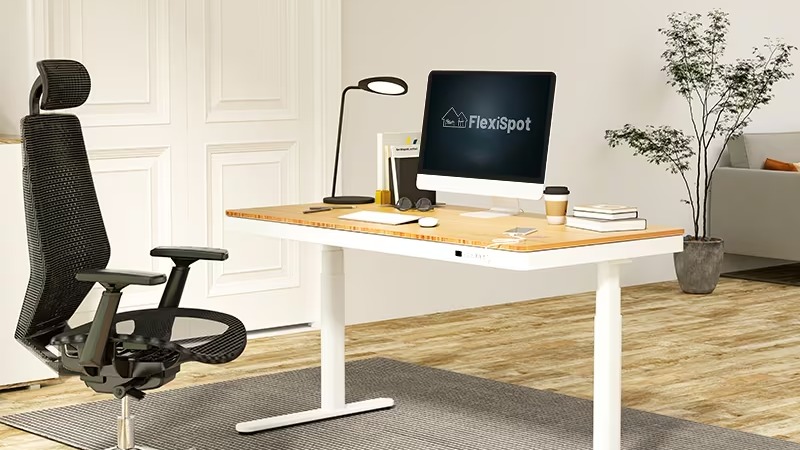 via Flexispot
Perhaps the most tedious part of getting a new desk is the assembly process. How many of us have been stuck for hours deciphering cryptic instructions? Thankfully, the Comhar Pro Q8 deviates from that norm.
PREVIOUSLY: Best Gaming Chairs – 2022
Straight from the box, this is no doubt one of the easiest desks I've ever assembled. There's no rummaging around for a million different screws and parts. The setup involves the desktop, desk frame, desk feet, a practical wooden block, and a cable tray, all of which are straightforward.
While it took me only about 20 minutes to put everything together solo, I can see why a two-person installation might be recommended. Nonetheless, the simplicity of the process can't be understated. As someone who has battled with many a furniture instruction booklet, I genuinely appreciated the hassle-free experience.
Functionality and features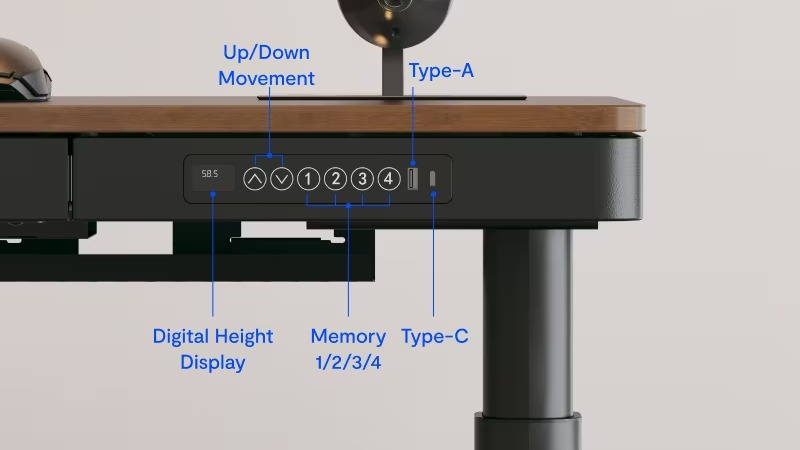 via Flexispot
The desk's dual-motor system is where it shines. It's not just about moving the desk up and down; it's about doing it seamlessly (and smoothly). The solid and stable foundation, powered by this robust dual-motor, ensures that transitions are smooth. And the multi-stage height adjustment means you have flexibility depending on your needs.
PREVIOUSLY: REVIEW: Dark Matter Arcade Fighting Stick
The smart control panel is a nod to modern requirements. The programmable height presets make it easy for multiple users to quickly adjust the desk to their preferred height, or for you to move from sitting in your gaming chair to standing on the fly. This feature is augmented by the digital height display, embedded USB charging ports (including a Type-A and a Type-C), and an all-in-one keypad with memory presets and up-down buttons.
Safety is paramount, especially in a dynamic environment, and the safety stop feature is thoughtfully included. When raising or lowering the desk, this feature prevents unfortunate mishaps with surrounding equipment or, worse, kids. Admittedly, it's a bit sensitive — a simple vibration from walking can halt its movement — but I'd argue that's far better than the alternative.
User experience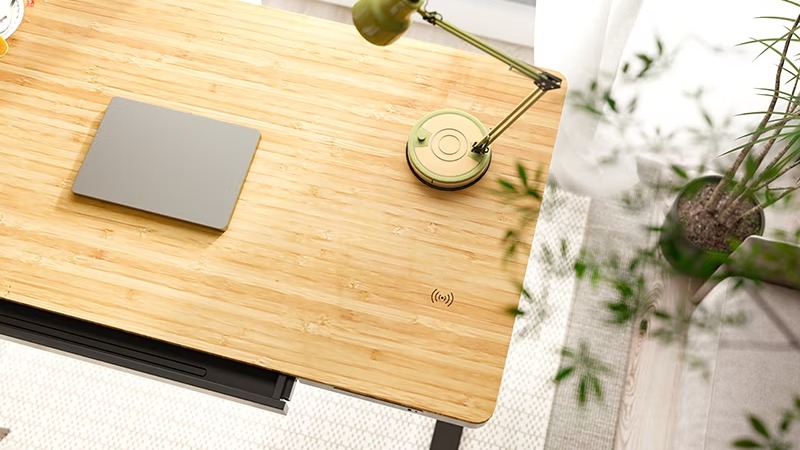 via Flexispot
Beyond the mechanics, it's the user experience that truly defines the worth of a desk. In this department, the Comhar Pro Q8 mostly delivers. The cable tray ensures a clean workspace, and the built-in storage drawers are perfect for those who value unseen organization, rather than taking up precious desktop real estate.
However, no product is without its flaws. The wireless charging feature, as enticing as it is, had some hitches. My iPhone 12 Pro Max, for instance, overheats during charging. I found myself deferring to the USB ports, which works fine, but it's disappointing to not be able to use the wireless charging feature.
A small lament: Flexispot once sold a gaming mousepad that would cover the entire desk, which is something that I fell in love with on a previous gaming desk. While not crucial, this would've been a delightful accessory to have. It's a shame they've discontinued it.
The verdict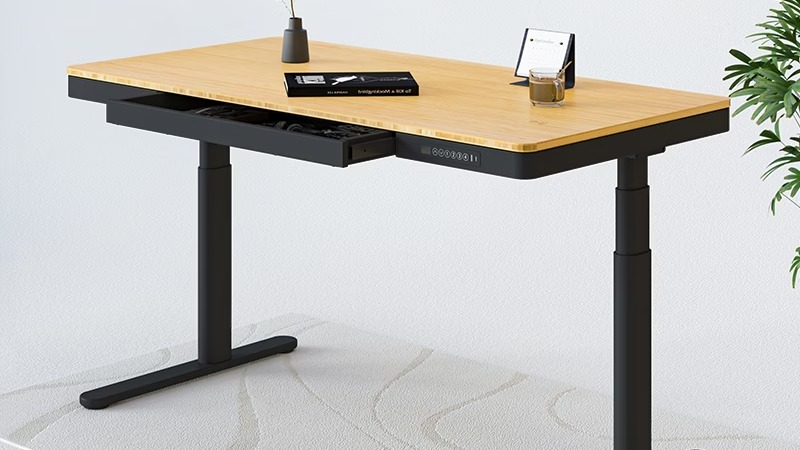 via Flexispot
The Flexispot Comhar Pro Standing Desk Q8 isn't just another standing desk. It's a thoughtful amalgamation of design, functionality, and user experience. There are tiny areas of improvement, but they are overshadowed by the numerous advantages. For anyone in the market for a reliable and elegant standing desk, the Q8 is a strong contender.
In the ever-expanding universe of office furniture, Flexispot has carved a simple, yet effective niche with the Comhar Pro Q8, ensuring your workspace is not just productive, but also environmentally friendly and aesthetically pleasing.
A product sample was provided to GamingPizza for this review. The Flexispot Comhar Pro Standing Desk Q8 is available for $649.99 on Flexispot's website.